10 of the Best Foods Your Puppy Can Eat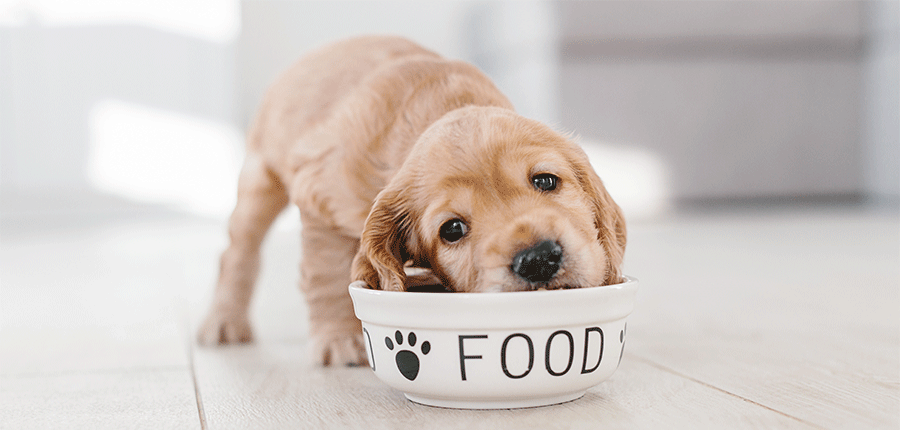 Give your puppy the best possible start in life by feeding a specially formulated puppy food to meet their growing needs.
What Is A Puppy Diet?
The best food for puppies are formulas that contain essential growth nutrients such as DHA (docosahexaenoic acid), an omega-3 fatty acid that is crucial for brain health, the development of the nervous system as well as key for good eye sight. Puppies actually get DHA from their mother's milk that is why it's so important in a puppy recipe as they transition over to real food. DHA in puppy foods can be sourced from fish or fish oil, liver protein or from algae meal.
A puppy diet also contains optimum amounts of calcium and phosphorus to support healthy bones, muscles and teeth in terms of the AAFCO nutrient profile that supports growth. The best foods for puppies are higher in calories than adult diets to ensure overall healthy growth. That's why there are different types of puppy diets because, for example, larger breeds grow over a longer period of time and have nutritional requirements related to their growth pattern versus small breeds.
Whether your puppy is going to grow up to be a small adult dog or a larger dog, it's important to always follow the feeding guidelines in order not to overfeed. It's worth having a nutrition conversation with your veterinarian. At Wellness, we offer a full-time hotline and can offer knowledgeable advice with regard to specific puppy nutrition questions. Contact Us at 800-225-0904, Monday – Friday 8am – 5pm ET.
Best Food for Puppies
Fortunately, when it comes to the best premium, natural recipes for puppies, there are options crafted to meet a growing pup's needs in grained or grain free formulas. They also take into consideration kibble size and wet textures suitable for puppies.

Best High Protein Food for Puppies
Best Natural, Balanced Food for Puppies
Best Breed Size Specific Food for Puppies
Best Wet Food for Puppies
Best Treats for Puppies
With all puppy diets, feeding the correct amounts is key to raising a healthy puppy to become a strong, energetic adult dog. Extra weight during puppyhood puts a strain on growing bones! Check the guidelines for feeding amounts and keep re-checking because feeding amounts change frequently as the puppy grows.
When it comes to treats, they need to be considered as part of a puppy's daily calorie allowance and not an added extra. That means that the calorie content of the treats should not amount to more than 10 percent of your pooch's total daily caloric allowance.
Puppyhood is the ultimate in doggy fun time. And meal time is a special bonding experience. Do you have a puppy that enjoys one of the Wellness puppy recipes or is rewarded with yummy Wellness treats? Please share your photos with us by tagging #wellnesspetfood and @wellnesspetfood for a chance to be featured on our website or social pages!