5 of the Most Inspiring K9 Veterans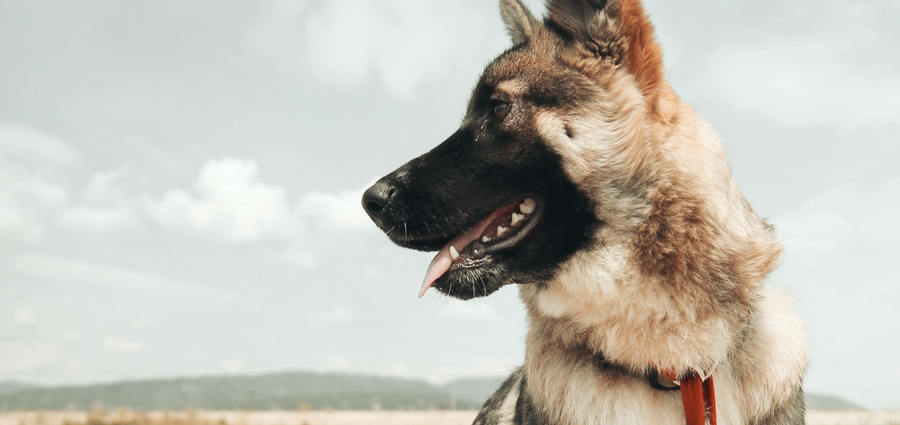 National K9 Veteran's Day is March 13, which is the US Army K9 Corps' official birthday. Brave, wise, and compassionate dogs routinely serve alongside military and law enforcement. This year, we're celebrating by recounting some of history's and modern day's most inspiring K9 Veteran stories.
1. Sallie Ann Jarrett, the Civil War Guard Dog

The Pit Bull Terrier Sallie Ann was raised alongside the soldiers of the 11th Pennsylvania Infantry in Philadelphia. The warm air was balmy the summer of 1863. Rains made the grounds muddy and hard to traverse. Rivers were swollen, and tensions were high as the soldiers marched into one of the American Civil War's most pivotal battles: The Battle of Gettysburg. Alongside the war-weary soldiers, Sallie Ann Jarrett trampled along playfully, yipping and chasing game…distracting the soldiers from the reality of war and the possibility of their own mortality. 
It was the first day of battle at Gettysburg, and as the gunfire began, Sallie Ann and her regiment became separated. Many assumed that Sallie Ann had gone the way of many of their brethren soldiers and was dead; however, Sallie Ann wasn't dead; rather, several days later, she was found steadfastly protecting those in her regiment who were dead and wounded. 
A monument bearing Sallie Ann's image was erected in Gettysburg. Sallie Ann faithfully served her country and its men until the Battle of Hatcher's Run in February 1865 when she was shot and killed. Rest in peace, brave girl. We salute you.
2. Sergeant Stubby, the Stray-Turned-WWI K9 Veteran

With his big, soulful eyes, terrier mix Stubby looks more like Little Timmy's trusty sidekick, but Stubby's sidekick duties were fulfilled with GI Joes training in New Haven, CT. From Connecticut, Stubby made his way to France as part of the 102nd Infantry, 26th Yankee Division.  Stubby served his unit well by rounding up German spies, finding missing soldiers between trenches, and detecting pending gas attacks. When he wasn't saving lives, Stubby kept everyone's chins up making him the ultimate wartime pal. 
After World War I ended, Stubby was given a medal, led parades, met presidents, and was made the mascot of Washington D.C.'s Georgetown University. Stubby's the heroic stray that wandered right into America's hearts.
3. Smoky, the Yorkshire Terrier from a Foxhole in New Guinea during WWII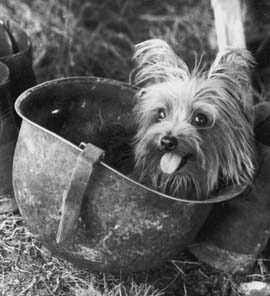 Despite being only four pounds, Smoky, the Yorkshire Terrier that was adopted by soldiers after they found her in a foxhole in New Guinea paid their kindness back 70-fold. Specifically, she ran phone wiring 70-feet underground enabling essential communications between outposts.
After her time in active combat, Smoky served as a therapy dog at Australian Army and Navy / Marine hospitals giving her the distinction of being the first therapy dog. Smoky passed away in 1957 but is memorialized with a statue in Cleveland, OH. When it comes to bravery and loyalty, Smoky proves size doesn't matter.
4. Dexter, the Sharp German Shepherd from Iraq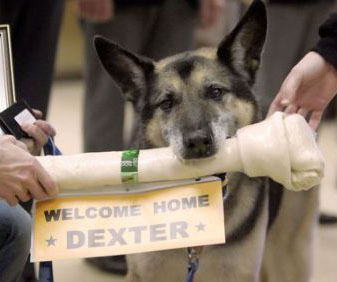 Dexter being welcomed home

Dexter, the German Shepherd, is a Navy Veteran who served with handler Petty Officer 1st Class Kathleen Ellison. Dexter has the distinction of being the first military K9 to get an American Legion Post 703 membership card. The honor is much-deserved as Dexter saved multiple U.S. servicemen and women's lives in Baghdad when he detected explosives in a garbage truck's gas tank. The garbage truck was targeted at a mess hall where countless men and women were dining. 
After his tour in Iraq, Dexter was rewarded in an award ceremony with a giant bone and a 2-pound steak. Dexter retired in a community of other retired K9 Veterans where constant care is provided. It was a much-deserved quiet end to an impressive career.
5. Rex, the Best in His Class in Operation Iraqi Freedom II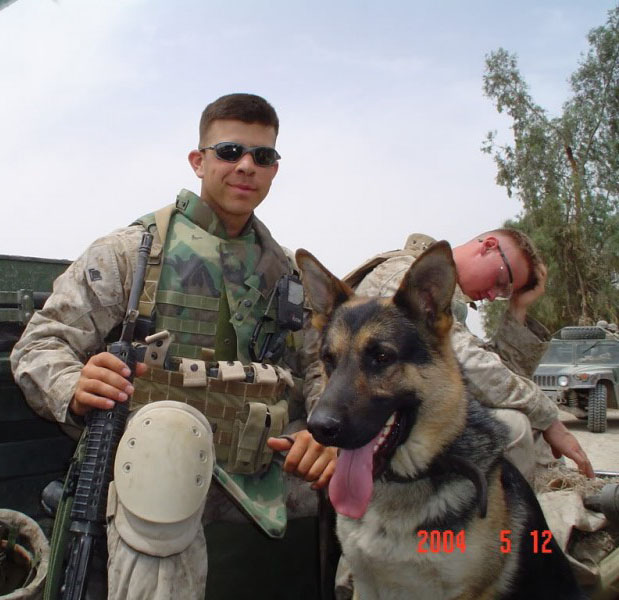 German Shepherd veteran, Rex
During training, German Shepherd Rex was best in his class; he handled his first mission like a pro—not barking at stray dogs in Baghdad while on an overnight mission to flush insurgents out of a building stocked with munitions and explosives, obeying orders, and not yelping and giving away the team's position when cut by wire fencing. 
That mission was a success, but on a later mission during his third tour, things didn't go so well. Rex and his handler reached a checkpoint when their worlds were literally turned upside down. As they moved through the checkpoint, an improvised explosive device buried deep underground triggered and exploded literally blowing Rex and his handler up. The pair flew an estimated 30 feet and miraculously, survived with only minor wounds. 
In his career, Rex spent 25 months detecting countless explosives and munitions and saving multiple lives by doing so. The love, sacrifice, and service of K9 Veteran blow us away, and we couldn't be more impressed by these and other four-legged heroes this K9 Veteran's Day.   
These and other K9 service dogs deserve to be celebrated every day. In fact, all dogs do, which is why Wellness Pet Food continually makes all-natural dog foods that will ensure your dog, the hero of your heart, is strong and healthy and ready to fight another day.
.