Choosing the Right Protein For Your Dog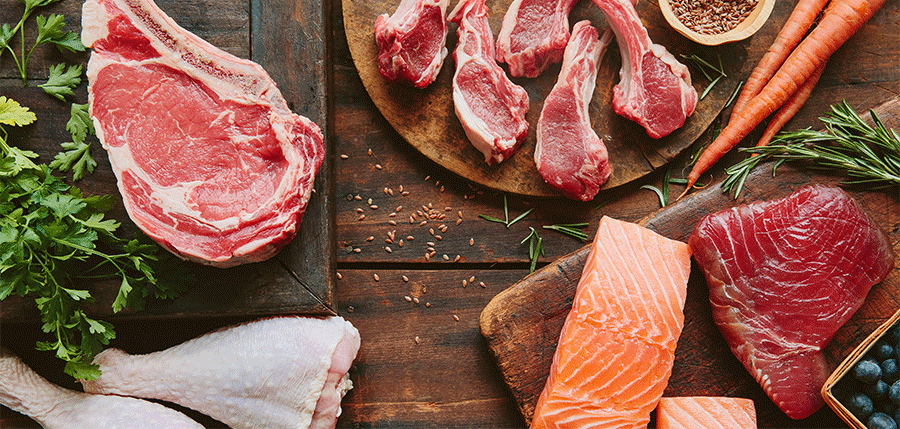 You already know that protein is essential for your dog wellbeing. But that's not enough – do you know what kind of protein works best with your pooch and how much protein you should feed him? Let's break down all of these questions and take a good look at choosing the right protein for you dog. 
How Much Protein Does Your Dog Need?
Every day, your dog needs 1 gram of protein per pound of his ideal body weight. What does that mean? Let's just say that you have a 40-pound dog (which happens to be his ideal body weight). It would mean that your dog will need 40 grams of protein every day. 
If your dog is overweight, you'll still need to calculate his protein calculated at his ideal body weight. That means is your dog is carrying a few pounds at 48 lb., but he should weigh 40 lb., he needs 40 grams of protein each day. 
What Percentage of Protein Should Be in Your Dog's Food?
Depending on your dog's age, you'll be looking for a minimum percentage of 18 to 29 protein in his diet. Adult dogs need 18 to 25 percent protein, while a growing puppy needs more protein – 29 percent (which should provide 20 to 25 percent of his dietary calories). 
What are the Best Proteins for Dogs?
When looking at the label, you should see meat listed as the first ingredient. Here are some common, healthy protein sources:
Beef
Turkey
Chicken
Lamb/Mutton
Duck
Venison
Rabbit
Fish (Salmon, Whitefish, etc)
As well, muscle meat and by-products such as hearts, livers, kidneys, and lungs are all good sources of protein, as well as meals made from them.
Best Protein for Dogs with Allergies:
If your dog has allergies, these protein sources are less likely to cause allergic reactions that are common with proteins such as chicken
Dogs with allergies do better with game meats. Thanks to Limited Ingredient types of dog foods, elk and bison recipes are now readily available at most pet stores.
Best Protein For Active Dogs:
Best Protein for Overweight Dogs
Feeding about 2 to 3 percent of body weight is considered ideal. Some proteins that can help with dog weight loss:
Turkey is a common meat found in dog food recipes and is a great way for your pooch to lose those unsightly pounds – all while giving him the nutrition from protein he needs.
Which Wellness Dog Foods Should You Choose for Your Dog?
Wellness Dog Food has a variety of recipes to meet your dog's needs – whether your pupper is prone to allergies or can't stand still (or even if he doesn't like to get off the couch), Wellness has a specially designed high protein dog food just for him. 
Try their Complete Health recipes, a series of dog foods that combine natural, premium proteins to deliver a balanced diet for all dog breed sizes, life stages or unique nutritional needs.
If you're looking for a higher protein option, give the Wellness CORE line a go. Available in dry and wet dog food, toppers and treats in both grain free and Wholesome Grains varieties, you can expect quality proteins such as beef, salmon, lamb, duck, turkey, chicken and whitefish to provide your pooch with the flavor and health benefits he needs. 
Is your dog prone to sensitivities? Then try Wellness CORE SIX, natural, limited-ingredient dog foods made with just 6 main ingredient sources including a single protein like duck, lamb or salmon, plus easily digestible carbohydrates, with no fillers or additives.