CORE Dog Food Powers National Park Adventures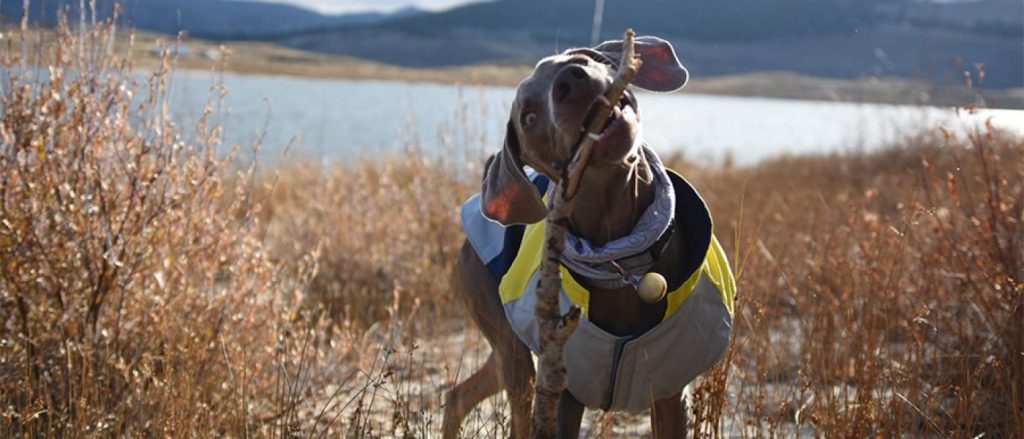 I have always been a dog lover. And when the time came for me to get my own dog, I knew exactly what I wanted. A dog that shared my same passions. A dog that would go on countless adventures with me and be my loyal companion and best friend. Koda, a weimaraner, enjoys swimming, hiking, smelling and most of all sticks. He's always by my side. He's deathly afraid of losing track of me and hates it even worse when I'm gone. He'll nervously chew his tail when I'm gone. One week ago, Koda set out on his first big adventure – a road trip from Colorado to Washington State.
Packing and Prepping
As my girlfriend (aka Koda's girl) and I packed up our apartment and loaded up the truck Koda began to stress. Nervously barking and racing around the house, he was beyond worried that he would get left behind. He goes absolutely everywhere with us, yet always acts as if he's actually going to be abandoned or left behind. When we finally finished packing and grabbed his leash, excitement came over Koda. He knew that we were going exploring and he was pretty sure that he was going to come along.
Hittin' the Road
Within 30 minutes of driving, Koda gave up his anxious pacing across the backseat, and was sound asleep. Occasionally he would wake up and smell around for the Wellness treats he knew were in the car, find one to eat (or ten), and then fall right back to sleep.
Pinedale, Wyoming
Our first stop was Pinedale, Wyoming. Located at the base of the Wind River Mountain Range, Pinedale was the perfect place to stop and adventure. After a good night's rest and a big breakfast, it was time to explore! We spent the day fishing, hiking, and chasing sticks. Koda ran miles and miles and chewed up at least fifty sticks. That afternoon, we set out for the next destination, Jackson Hole and Koda's first trip to a National Park.
Grand Teton National Park
Waking up to snow in Jackson, we ventured into the Grand Teton National Park. Koda knew he was going to get to do lots of adventuring here and he couldn't wait to eat frozen sticks and chase snowballs that, much to his surprise, he would never find. Stopping several times throughout the park to get out and explore, Koda was having the time of his life.
Yellowstone
After we passed through The Grand Tetons, Yellowstone was next on our list. There would be no naps for Koda today as we drove past herds of buffalo and elk. Koda wanted nothing more than to get out and play with the buffalo as they walked within inches of our truck! I imagine he thought they were just another large dog he might play with at a dog park.
Bozeman, Montana
With two National Parks behind us, Bozeman, Montana, was our next stop on the list. Although we spent countless hours fishing together, Koda had never been on a boat. We did have him on a paddle board one time, which went shockingly well. During our stay in Bozeman, Koda floated the Madison River – a river known around the world for its beautiful sights and hungry trout! Koda was amazing on the boat, He never tried to jump overboard after ducks or fish. He just sat back and enjoyed the ride. And also ate an entire bag of his Wellness treats while we were busy fishing.
No Place Like Home
After a weekend filled with adventures and meeting new friends in Bozeman, it was time to start the final leg of out journey. Only twelve hours until we were finally home. Although Koda has spent the majority of his first year in Colorado, he is a Washingtonian. Koda is powered daily by Wellness and is already itching for his next big adventure. Time for his first trip to the ocean!