Oktoberfest Breeds & Brews: Find Your Ideal Pooch and Beer Pairing!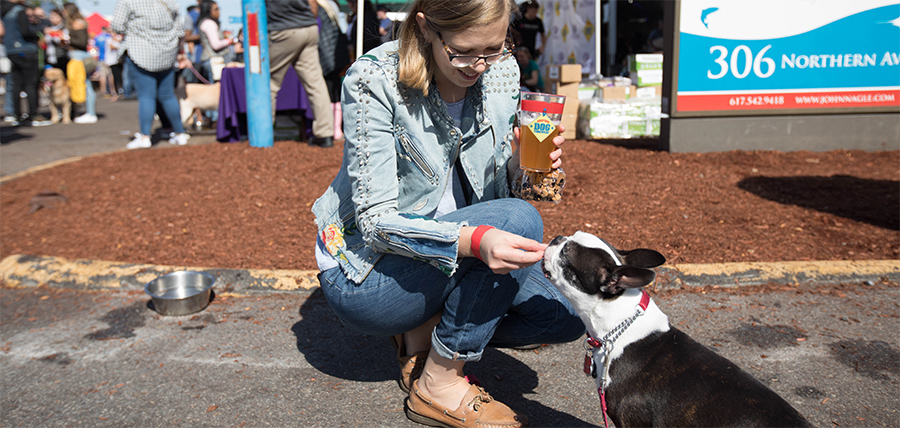 You've heard the comments about how often pet parents end up choosing a pup that looks like them, but what about Brews & Breeds? This Oktoberfest, we're having a little fun with beer and pooch pairings! First, find your favorite beer, and see which pup's personality matches it!
1. Pilsner:
A bit more hoppy than your average lager and pleasantly lighter than a generic pale ale, a pilsner is, put simply, a refreshing beer with rich German roots.
Your dog:
You enjoy a brew that has a bit more hop than the average beer, but still remains light and easy to drink – meaning you enjoy a hardworking companion that offers energy when needed yet often remains tame. A German Shepherd is the perfect mix of spirit and calmness, just like your pilsner!
2. Lager:
Known for its crisp, light taste and smooth, mellow flavor, lagers are one of the less bitter, more subdued brews in the beer world. 
Your dog:
You like things low maintenance, no frills or fuss – your perfect breed is a Bernese Mountain Dog. These large-breed canines play into the name of a lager itself, but more importantly, they are the easygoing, well-balanced pooch perfect for your lifestyle. When they aren't sleeping, they're up for a relaxing cuddle or a hangout on the couch—while you sip your brew.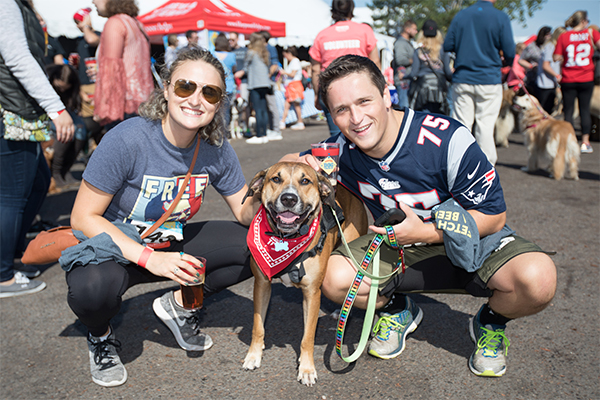 3. Sour Ale:
Intentionally acidic to pack a punch, sour ales have a distinctive, zippy flavor. Available in an array of shades from golden to amber, this beer looks as good as it tastes. 
Your dog:
Lovers of sour ales can handle just about anything, especially a tart kick, making them the perfect pet parents to Poodles. High in energy, these elegant pooches can zip around the yard in a manner that catches you off guard, much like the lively flavor of a sour ale. Poodles are also known to sport colorful bows varying in shades and tones, mirroring the diverse colors of the beloved sour brew. 
4. Hoppy:
Bursting with citrus, floral, fruity or piney flavors, this beer is bitter in taste and intensely aromatic.
Your dog: For these beer lovers, the more hop, the better – so you gravitate towards Australian Shepherds. Speaking in literal terms, these canines truly have a hop, and a quality one at that. Known for their impressive jumping skills (both high and far), these dogs are as "hoppy" as it gets without any of the bitterness.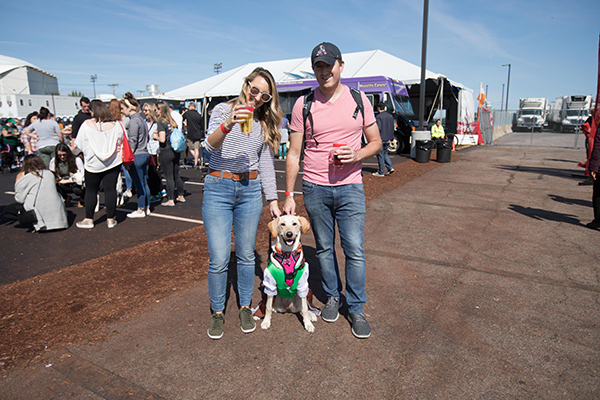 5. New England IPA:
Often described as "hazy" or "juicy," New Englanders have put their own twist on the traditional IPA. These brews are both smooth and creamy, unlike the dryer characteristics of other IPAs, and emulate a tropical-esque sweetness that veers from the standard IPA bitterness.
Your dog:
There's no place like New England, and if you're a die-hard fan of this IPA, you're an all-around Northeast fanatic – your perfect breed is a Boston Terrier. This pup's personality makes it unique from other terriers, and there's no better ode to New England than a dog named after the place where it all began. 
6. Dark Ale:
Deep in color and rich in flavors like chocolate and caramel, a dark ale is known for its malty and roasted taste. Full in body and slightly sweet, this brew offsets bitterness and is easy to drink.
Your dog:
The attraction of this beer is often the rich, sweet taste and the smooth, dark color – your perfect breed is a Chocolate Lab or a Black Lab. Both breeds boast a charming, friendly personality while flaunting that deep, dark color that catches the eye of every passersby. 
7. IPA :
It's the most aggressively hopped beer style of them all! With a powerfully bitter taste and intense citrus aroma, the IPA family of beers tend to have a higher alcohol content and provides flavor that really works for you.
Your dog:
If you love a beer that has a real punch and has a lot to offer you, your best matched for a dog within the working breeds. Think a Great Dane or Saint Bernard. Just like there are different kinds of IPA, there are several working dogs to choose from, all of which are loyal, hardworking – and that everyone loves!
8. Blonde Ale:
As the most approachable style of beer, blonde or golden ales are known for being easy to drink. Well-rounded and smooth, this kind of beer is an all American classic.
Your dog:
If a blonde ale is your brew of choose, there's no doubt that you're born to be the proud pet parent of a yellow lab or golden retriever. Not only will they match in appearance and provide great photo ops at dog-friendly breweries, but both breeds are also easy-to-train, loyal and American classics themselves.
9. Flight:
It's the best that a brewery has to offer! From IPA's to ales and lagers, a flight of beer will give you a little bit of everything. You never know exactly which flavors you'll get, but your taste buds are always pleased at the end.
Your dog:
It's no surprise that flight lovers are best matched for mutts or mixed breeds. These pups are a combination of all the characteristics and personality traits that man's best friend has to offer!
10. Stout:
The name may make you think small, but these beers are strong, dark and offer a firm, powerful aroma. With a lower alcoholic volume, stout beers are perfect for tasting and pairing with your favorite foods.
Your dog:
A stout beer goes best with a stout dog – like a Corgi! Corgis are "big dogs" on their lovable short legs. Despite being small in stature, these pooches are steady, dependable and athletic – they're great to bring alongside your favorite activities as they are always looking for something to do!